---
Welcome to Tell Tale Travel; we specialise in holidays with a difference and insider experiences. Making them accessible to a wider range of people. Your holiday will be packed with experiences that will give you plenty of tales to tell when you get home and memories to cherish forever. Let us take you away from the tourist trail and into the heart and soul of your destination. You will meet local people who don't work in the tourism industry. Our itineraries are extremely well balanced and paced. Accommodation is more comfortable than on a typical adventure trip.

Most Tell Tale Travel trips are private tours for couples, families or friends travelling together (i.e. you will not be travelling in a group) and can be taken on dates convenient for you and at your own pace. However, we do run a few special set departures for solo travellers to experience travelling the Tell Tale way. Whichever trip you take, you can rest assured your travel is respectful of local people and places and you will come home with new friendships and memories and stories that will last a lifetime.

Enter your email address below to subscribe to our newsletter, Tittle Tattle. Each quirky missive is packed full of interesting articles, insider tips and exclusive offers, plus a fun competition. What's not to like?

"It was an amazing holiday which we will all remember for the rest of our lives." Tom and Ruth Simmonds and family, West Sussex See more tales or See what the papers say

---




---

'Inside track' is our section for personal experiences. Read Jacky Storey's spicy tales.




---

What's a Tell Tale trip for a family really like? Small or large family, find out if they are your sort of trip.




---
Family fun on Elephants and Waterfalls, a lovingly-designed unique family adventure in Thailand. August availability.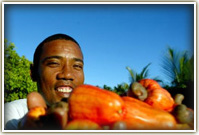 ---
Can you guess what he's holding? Insider experiences in Brazil.